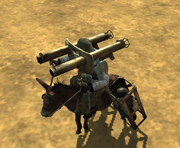 The Eselschreck is a secret unit in Company of Heroes- Opposing Fronts and Company of Heroes (Version 1.8)
Eselschreck is made up of 2 German Words: Esel, or donkey and Schreck, terror.
The Eselschreck is essentially a donkey with Panzerschreck Launchers on its back. It isn't normally buildable. It is available in the NHC mod.
This is the only unit in the entire Company of Heroes series that didn't appear in World War II.
This unit is based on an a famous World War II photograph in which Nazi soldiers strapped an anti-tank cannon to the back of a greek donkey and one soldier posed with it.
Community content is available under
CC-BY-SA
unless otherwise noted.