Company of Heroes Online is a free MMO real-time strategy computer game developed by Relic Entertainment and published by THQ. The open beta for the game started on 2 September, 2010 and is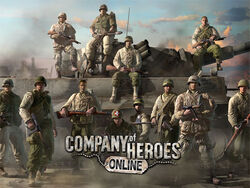 expected to go final later this year. The game was stopped later on that year. This game has no link with the original Company of Heroes series multi-player system and is a stand alone game, unlike its predecessors. The game uses the same graphics engine as the retail release of Company of Heroes.
Relic has also released a Chinese and a South Korean version of the game earlier. Both of them are currently in Open beta stage. The Chinese version has been co-developed and published by Shanda while the South Korean version was published by WindySoft and developed entirely by Relic Entertainment.
The Korean and American versions feature the entire single player campaign from the retail release while the Chinese version does not.
There are two multiplayer modes. One is Reward Game and another is Custom Game. In a Reward Game, the player needs to hold a "victory point", thereby draining the ticket counter of the enemy, who will lose when their counter reaches zero. In Custom Game, the player can customize the game as suitable and can be played for total anhilation along with the victory point counter.
A distinguishing feature of Company of Heroes Online from the retail Company of Heroes is that a command tree is chosen before the game starts instead of during game play. Similar to choosing a class in other MMORPGs, as you play with this character/army it will become more powerful unlocking new abilities that didn't exist in the original.
Company of Heroes Online adds hero units. These are typically marginally more powerful than standard units and feature specific bonuses that affect a unit's use. A combat unit may gain builder abilities or a builder unit may specialize in combating tanks. Heroes level up during gameplay.
Community content is available under
CC-BY-SA
unless otherwise noted.